• branding • love vs marketing • make them fall in love with your brand • marketing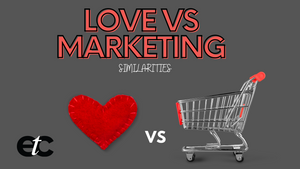 ♥️ Have you ever wondered what love and marketing have in common? ♥️ Well, wonder no more because they have much more in common than you thought. ♥️ Check these similarities and let me know what you think!   Not everyone will like you and that's OK You need to be trustworthy first. If you impressed them they will call back. If you ignore them they'll feel neglected. Unique personalities are irresistible.   Are your ready to make them fall in love with your brand? Contact Etc Marketing Services today and we'll help you making your brand hard to resist and make them...
---
• branding • content strategy • digital marketing • marketing • marketing planning
5 Reasons why you Need a Content Strategy for Social Media You're too busy making this week's content.  You're too distracted on next month's projects.  You always think It's too late to start with one.  You think you don't have the tech resources or knowledge to do it properly.  You struggle with not knowing what to post.   We all know how hard is it to keep up a content strategy that makes sense. Sometimes the lack of time, energy, or money makes us think that having one is  too challenging. Whether you decide on creating it yourself or hiring someone...